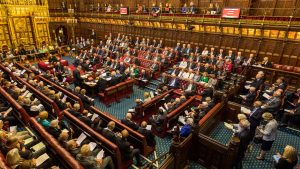 Opponents of the government's whiplash reform programme suffered a blow in the House of Lords yesterday when an attempt to kill off a key part of the legislation was voted down.
Peers defeated a proposed amendment from a former lord chief justice, the crossbencher Lord Woolf (Harry Woolf), to remove tariffs for limiting damages in the Civil Liability Bill. The vote, which followed more than two hours of debate, was won by the government by 218 to 205.
The vote at the report stage in the Lords will be a bitter pill to swallow for campaigners who had pinned their hopes on the upper house putting pressure on the government to amend its plans. It is now unclear what, if any, further efforts can be made to have the legislation further redrawn, as it moves onto the House of Commons.
The government did make one concession, pledging to bring forward at third reading an amendment to require the lord chancellor to consult the lord chief justice before setting or amending the tariff.
Full article on the Law Gazette – https://www.lawgazette.co.uk/news/civil-liability-bill-government-secures-crucial-win-by-just-13-votes/5066460.article