An article published by the IMechE says that the UK's first full-size driverless bus (similar to the one pictured) could be ready for use this year, although legal restrictions will ensure that it has a driver when on the roads.
Transport operator Stagecoach, bus manufacturer Alexander Dennis Ltd (ADL) and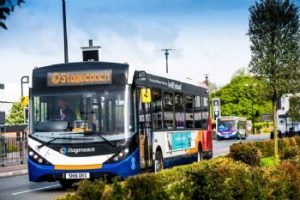 technology firm Fusion Processing are developing the single-deck autonomous bus.
The 12m ADL Enviro200 will be able to operate without a driver in an off-road environment.
The developers also claim that driverless technology will improve safety when driven in manual mode, adding that in the short term, operators will only enable autonomous mode in depots, using it for parking and moving into the fuelling stations and bus washes.
The companies say switching to self-driving vehicles in depots could help improve safety, efficiency and the use of space.
Legal restrictions mean the vehicle will not be used in autonomous mode in passenger service "for some time", but the autonomy-enabling sensors could nonetheless improve road safety by alerting drivers to cyclists, pedestrians or other vehicles in blind spots.
Ken Scott, group engineering director at ADL, said: "At first, the autonomous Enviro200 will deliver real and demonstrable improvement to efficiency and safety in depots, while taking another significant step on our journey to bringing fully autonomous vehicles to market."
Thanks to Machinery Market for the original article https://www.machinery-market.co.uk/news/21491/UKs-first-driverless-bus-set-to-roll