How one IoT startup is helping prevent home leaks
Water damage is one of the biggest causes of home insurance claims in the UK – bigger than theft or fire. Leaks are often hidden too, so you don't know about them until too late. The average claim in the UK costs the insurer about £3,500.
With that in mind, it's unsurprising that insurance companies are so keen to stop leaks from ever happening in the first place. And that's precisely the promise of one internet of things (IoT) startup called HomeServe Labs and its product LeakBot.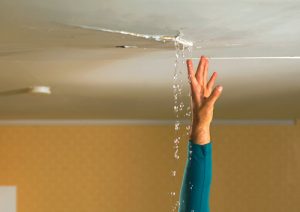 As the name suggests, Labs is a division of HomeServe, a 25-year-old British business specialising in home emergency callouts.
LeakBot, which was patented and launched in summer 2016, detects leaks by using temperature sensors clipped onto the pipe where water enters the home, HomeServe Labs managing director Craig Foster explains:
"For example, if you turn on a tap on the third floor, down where the water enters the property, the pipe will chill to the temperature of the water. As soon as you turn it off, it instantly starts warming up again and goes back to equilibrium," he says.
"We realised it's extremely sensitive – two or three millilitres per minute – so the temperature thermistor on the pipe can detect a leak anywhere in the house, especially when people are asleep or at work so it's quiet. When there are no leaks the two lines on the bot meet exactly."
All the other leak detectors on the market use listening devices, but LeakBot is 100 times more sensitive than these, he claims – and it's the smallest leaks that cause the most claims, as they can go undetected for so long.
Insurers offer LeakBot free with policies
HomeServe Labs has partnered with four major insurers – Covea Insurance, Aviva, RSA, Legal and General –who offer LeakBot to their customers as part of their insurance policy. It's a no-brainer for the insurers, given the £800 million they spend on insurance claims just on escaped water in the UK.
"It's usually £100 but insurers provide it for free," Foster says. "Take-up from consumers has been very strong because why wouldn't you? We post it to the customer and it literally takes three minutes to install it. It clips onto the pipe and syncs with a smartphone app, which takes you through the entire process."
LeakBot is the first product to be brought to market by HomeServe Labs. It is a logical step – LeakBot helps to detect leaks and HomeServe offers its services through the app, providing a plumber to come and fix it. "For insurers it's the fact it's an end-to-end solution that they like. We don't see other IoT projects doing that so much," Foster says.
The product neatly encapsulates one of the biggest benefits of IoT: its potential to predict and prevent damage from occurring in the first place.
SX3 have experts that can review the processes insurers have in place to manage escape of water claims, looking at the claims management model, cost control and fulfilment solutions. Call us if you would like a free consultation.
Source: https://www.techworld.com/startups/how-one-iot-startup-is-helping-prevent-home-leaks-3673849/